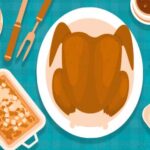 Fall Foods and You
Autumn officially begins in September, bringing plenty of delicious food with it, from warm cider to apple crisps. The fall season also plays host to Halloween, giving everyone an opportunity to enjoy all sorts of candy and treats. And soon after Halloween, Thanksgiving arrives — perhaps the holiday most well-known for its delicious, enriching food. Each famous Thanksgiving dish (main course or side) has its own personality, just like the people who are gathered around the table and the signs that circle the zodiac.
Are you like warm biscuits and gravy, or are you more like the
hearty turkey? Let's find out.
Aries
Your fiery color is represented by the candied yams and
carrots that are so popular during the holiday season. This dish is set apart
from the mostly earthy colors that dominate the rest of the meal, just like your
outgoing personality shines through in almost every situation that you find
yourself in.
Taurus
You are grounded and predictable, just like the green bean
casserole that sits to the left of the huge turkey at most Thanksgiving tables.
While these green beans are a time-honored tradition for many homes, everyone
has their own special recipe for this delicious dish — and you are just as
special and unique.
Gemini
Oh, Gemini. Sometimes, you struggle with making decisions.
That's why you, my friend, are symbolized by a tough dilemma: biscuits with
gravy…or fresh honey butter. Do you go savory or sweet? Or perhaps you should
split the difference and do half of each? The choice is definitely a hard one!
Cancer
You pull the entire feast together, dear Cancer. That's why
you are the delicious homemade gravy that people use to drench everything on their
plates. You are the glue that binds the meal and the family itself together!
Leo
Considering how brilliantly you shine in the spotlight, there's
no denying that you're the main dish of this meal — the turkey. Sitting on the
table with all eyes upon it, this traditional mainstay of the Thanksgiving
feast embodies your love for being the center of attention.
Virgo
What would Thanksgiving dinner be without the mashed
potatoes? Some like them smashed, others like them whipped. Regardless of how you
prepare them, you know that you better make twice as much as you think you need,
because they're beloved by everyone — not unlike you!
Libra
Balance is so important to you, Libra…and after a delicious meal, it's important to have an equally enjoyable dessert! Whether you prefer apple pie, pumpkin bread pudding with fresh whipped cream, or orange-cranberry cookies, you know how to end a meal in style.
Scorpio
You are known for putting a zing into things, whether it be
any group gatherings or simply life as a whole. As such, you're best represented
by the sharp taste of cranberry sauce. Whether you like jellied or whole berry sauce,
you can't go wrong with a serving of this sweet and tangy side.
Sagittarius
You love to mix the traditions of the past with new ideas
and fresh flavors, so a side of mac and cheese is your representative at the
Thanksgiving potluck! A favorite at any time of year, mac and cheese is the
ultimate comfort food and the perfect addition to any meal.
Capricorn
What would a Thanksgiving feast be without the stuffing? This
is as necessary and traditional as the holiday turkey itself! Capricorns love
history and tradition, and although they may sometimes do things that are a bit
out of the box, they always come back to what's tried and true.
Aquarius
You are unique, and you approach life from a different
perspective than many other people. Most families enjoy some corn with their
dinner, but you do it with a twist. Corn pudding is your contribution to the table,
and what a wonderful contribution it is!
Pisces
You may be last on this list, but you are represented by sweet potato casserole, which will be first on everyone's plate! Its sweet taste, mixed with the crunch of pecans, is sure to delight everyone at the table, just like you do!
---
Astrology plays an important role in your day-to-day life. The planets are responsible for your moods, experiences and more, which is why you should get a Psychic Astrology Reading. Our Astrology Psychics can calculate your natal chart and tell you about the important dates in your life (past, present, and future) that will massively impact you. Learn more about our psychics from real testimonials and read through our Astrology & Numerology Blog. Want to read more about your personal birth chart first? Get a free birth chart report today! Find an Astrology Psychic or learn more about Astrology Readings.
---
About California Psychics:
California Psychics is the most trusted source of psychic readings. We have delivered over 11 million discreet and confidential psychic readings by phone since 1995. More than a prediction, we are your guide for life's journey. Learn more about how psychic readings work and explore the California Psychics blog. With over 500 psychics online to choose from with real customer reviews, you're sure to find the best psychics for you. Call one of our trusted and accurate psychics today! Confidential and secure, real psychics, accurate predictions, 100% guaranteed.
The post Each Zodiac Sign and What Thanksgiving Food They Are appeared first on California Psychics.