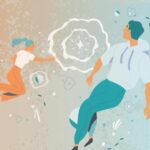 As the end of the year approaches — and the whirlwind of the holiday season begins to slow down — it's time to start thinking about your goals and aspirations for the upcoming year. Who is it that you really want to be in the year ahead? What resolution do you truly need right now to grow into the person you wish to be?
The quiz below will provide you with some clarity by helping you discover what goal best aligns with your intentions…and your heart's longings. Use these questions to uncover the resolution that will serve you best in the coming year.
1. What word would you (ideally) like to describe you next year?
A. Centered
B. Healthy
C. Connected
D. Productive
2. What would you like to do more of in the upcoming year?
A. Engage in my own hobbies
B. Cook meals at home
C. Spend time with the people I love
D. Plan out my finances and career
3. Which of the following would you like to leave behind?
A. Martyrdom
B. Overindulgence
C. Loneliness
D. Disorganization
4. What do you never seem to have time for?
A. Myself and the things I love to do
B. Exercise
C. Getting together with the people I love
D. Following through on my ideas
5. What do you think your biggest flaw is?
A. Being too giving
B. Not taking care of my body as well as I should
C. Being flaky or distant with other people
D. Getting distracted or procrastinating
6. If you could have a one-hour session with any of the following experts, which would you choose?
A. Life coach or therapist
B. Nutritionist or personal trainer
C. Relationship coach
D. Career coach or professional mentor
7. Which of your Chakras typically feels blocked?
A. Heart
B. Solar plexus
C. Throat
D. Third eye
8. What always comes last on your to-do list?
A. My own needs
B. My health
C. My loved ones
D. My administrative tasks
9. What do you struggle with the most?
A. Scheduling time to do things for myself
B. Sticking to a wellness routine
C. Keeping in touch with friends and family
D. Staying organized and focused on my goals
10. Which wellness activity do you think you really need right now?
A. Meditation
B. Yoga
C. Talking about my feelings
D. Manifestation journaling
---
Results
Mostly A Answers: Focus on Self-Care
In the year ahead, your mandate should be to put yourself first. You might consider a resolution like "I am worthy of rest" or "I will take better care of myself." Frame your goals with love and give yourself room to develop new habits — ones that involve engaging in self-care and making yourself a priority. When you've deferred to other people's needs for so long, this can be challenging. However, reminding yourself that you matter can not only help you preserve your wellbeing but also prepare you for personal growth. Get support from a Life Path Psychic to fine-tune your resolution and tailor it to your specific needs.
Mostly B Answers: Focus on Your Health
You may have developed some less-than-healthy habits, so use this upcoming year to correct course when it comes to your health. A resolution like "I will take care of my body with proper nutrition and movement" can motivate you to eat better and exercise more. (Avoid resolutions like "I will lose [x] number of pounds." Those only serve to guilt you into compliance — and guilt isn't a great motivator.) Support from a Life Path Psychic can help you create a resolution that you can not only stick to but that will help you thrive.
Mostly C Answers: Focus on Your Relationships
This year, you should focus on strengthening your relationships with your loved ones, whether it be with your family members or your friends. Try a resolution like "I will prioritize the people I love and the bonds we share." These words will inspire you to send a text to a friend when you're thinking about them or make plans to grab lunch with someone you love but haven't spoken to in a while. A Life Path Psychic can help you devise a resolution that will strengthen your closest bonds.
Mostly D Answers: Focus on Stability
In the year ahead, make it your mission to grow financially and progress your career. Step up your game as you try to accomplish your life goals. Your resolution could be something like, "I will create the life I've always dreamed of." These words will encourage you to take whatever steps are necessary to stabilize your life, whether that's saving money for a down payment on a home, going back to school so you can take a new step in your career, or developing better organizational habits — whatever will help you get to where you want to go. Support from a Life Path Psychic will help you hone in on what you need to do to make this year especially productive and fulfilling.
---
Want to build a better future? A Life Path Reading with one of our talented Life Path Psychics can tell you where you're headed. A Life Path Psychic can help you find what you love so you can love what you do. And if you don't like where you're headed, your Life Path Psychic can steer you down a better path. Learn more about our psychics from real testimonials and read through our Destiny & Life Path Blog. For more insight about your destiny & your astrological chart, get your free birth chart report today.
---
About California Psychics:
California Psychics is the most trusted source of psychic readings. We have delivered over 11 million discreet and confidential psychic readings by phone since 1995. More than a prediction, we are your guide for life's journey. Learn more about how psychic readings work and explore the California Psychics blog. With over 500 psychics online to choose from with real customer reviews, you're sure to find the best psychics for you. Call one of our trusted and accurate psychics today! Confidential and secure, real psychics, accurate predictions, 100% guaranteed.
The post Quiz: What New Year's Resolution Should You Choose? appeared first on California Psychics.