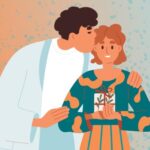 The Holiday Season and Your Relationship
The holiday season is often heralded as a time of joy and togetherness. While it can be both of those things, it can also be chaotic and stressful. Whether it's familial expectations, gift-giving pressure, bad weather, travel plans, scheduling problems, or something else, these struggles can make it difficult to remember what lies at the heart of the season. Needless to say, this stress can easily spill into your relationships. However, with clear communication and proactive planning, it is possible to get through the holiday season unscathed — and maybe even be closer to your partner by the end of it. Here are three key principles to consider when navigating the holidays as a couple.
Maintain a Connection
Amidst all the holiday hustle and bustle, it's easy for your connection with your partner to fall to the wayside, which can lead to miscommunications and other problems. While it does take extra effort, making time and space to connect with each other can go a long way toward helping your relationship survive the holiday season. Consider the following tips:
Share holiday traditions. Many people have their own practices from childhood. These are tender, personal habits that can fill your holiday season with meaning — the vulnerability of showing your partner your rituals and learning about theirs can strengthen your bond. Creating a new tradition together can also be unifying, centering you and giving you something to do as a unit.
Respect your differences. For most people, the holiday season has ties to their cultural and/or religious backgrounds, giving it a lot of personal significance. It is important to show interest in your partner's holiday memories and practices, even when they differ from yours. You won't be on the same page about everything, but you can be open-minded and gracious about the places where you diverge.
Spend time together. Consider designating a specific time and/or day to check in with each other about your feelings. It's also a good idea to set aside some time for you to go on dates with each other. Prioritize your connection with your partner and spend time cultivating it, especially if you are concerned about the stresses of the holiday season.
Manage Expectations
One thing that makes the holiday season stressful is the way
that everyone's different expectations clash with each other. While you can't
proactively navigate all the hopes and assumptions that the two of you may face
during this time, you can work to establish clear expectations for each other.
Below are some ideas that can help you do that:
Discuss budgeting and gift-giving. Don't let yourself stress over things like not knowing how much to spend on each other, where to travel, or who is on host duty. Additionally, avoid the disappointment, anxiety, and frustration that can come from being on a different gift-giving page than your partner. Communicate clearly ahead of time; set expectations for what you want, how much you'll spend on each other, what you'll be doing, and how responsibilities will be divided.
Try to keep things in perspective. Remind yourself that if you and your partner are experiencing more conflict than usual during the holidays, this probably says more about the stress of the season than it does about your relationship.
Discuss the COVID-19 pandemic. Consider traveling and visiting family during non-peak times to reduce transmission. Talk about how else you can minimize risk while on airplanes, buses, taxis, or other forms of transportation so that your gatherings will be safer for those who are more vulnerable. Try building some flexibility into your schedule and recognize that if you are exposed to COVID-19, it may derail your plans. Check with any travel-related companies about their COVID-19 cancellation policies.
Create and Maintain Boundaries
Boundaries are an often-underutilized tool for limiting your anxiety. Setting boundaries with your partner and your family can help you decrease your stress levels and increase your enjoyment of the holiday season. Here are some things to consider:
Remember that you don't have to do everything. It is okay to limit, miss, or individually celebrate your family gatherings. Family holidays can put a lot of pressure on a relationship. It's fine if you need to set boundaries on how you'll each celebrate with your families. Maybe you'll alternate whose family you visit each year, or keep your celebrations local with just your partner and friends. Some years, you and your partner might even visit your families separately. Don't buy into the unfair societal pressure that you and your partner must attend every single family gathering together.
Take it easy on the alcohol. An increase in the consumption of recreational substances can accompany the holiday season. Do your best to avoid conflict while either of you is under the influence. Make plans for safe transportation.
Set limits ahead of time. If your family likes to bring up a topic that aggravates your partner, speak to them before you meet up and ask that they refrain. Vice versa, if your partner enjoys talking about things that you don't want them to mention to your family, that's okay. Just let them know what topics are off-limits beforehand. Try to plan for any specific triggers — maybe there is a particular family member who sets you off, or maybe someone is notoriously bad at accommodating other people's dietary needs. Whatever it is, try to mitigate those specific triggers if you can. If you can't, speak to your partner and prepare to face those challenges as a team.
Help Your Relationship Survive the Season
While the holiday season can place an increased amount of stress on your relationship, going in with a clear head and lots of proactive communication will set you up for success. If you're worried about your ability to implement these tips, or about something deeper within your relationship, consider reaching out to a Love Psychic. They can help you feel more grounded in your situation and give you the information you need to address a specific relationship problem.
---
There's nothing worse than romantic uncertainty, but you don't have to navigate the ebbs and flows of love alone. A Love Psychic is always available to help and a Psychic Love Reading is exactly what you need to get your relationship on the path to forever. Learn more about our psychics from real testimonials. For more insight about love and your astrological chart, get your free birth chart report or check out your Weekly Love Horoscope.
---
About California Psychics:
California Psychics is the most trusted source of psychic readings. We have delivered over 11 million discreet and confidential psychic readings by phone since 1995. More than a prediction, we are your guide for life's journey. Learn more about how psychic readings work and explore the California Psychics blog. With over 500 psychics online to choose from with real customer reviews, you're sure to find the best psychics for you. Call one of our trusted and accurate psychics today! Confidential and secure, real psychics, accurate predictions, 100% guaranteed.
The post Navigating Relationships During the Holiday Season appeared first on California Psychics.