THIS IS THE BLOG OF ELIZABETH PERU
© Copyright 2020 All Rights Reserved | Deltawaves elizabethperu.com
Copyscape scans the internet for plagiarism of this blogpost For clarification or questions on usage and copyright, please contact the team: assist@elizabethperu.com
To stay informed and up-to-date with ALL of the latest energy shifts, follow my guidance in The Tip-Off Global Energy Forecast

Dear Cosmic Community,
It's my pleasure to be connecting with you once again, to present the second part in my 2-part series on The Global Pandemic and The Other Side.
Part 1: The Eye of The Storm can be found here In Part 1, I gave you my intuitive understanding of where we're at with the global pandemic, providing timelines and also where we're heading. You'll learn the importance of creating calm by coming within and also how the way of the future is feminine-based, with soul and heart leading.
And NOW, in Part 2, I provide the SOLUTIONS to our current global awakening. In particular, The Spiritual Solutions…
PART 2 – THE SPIRITUAL SOLUTION
There's hardly a soul (in human form) on this planet, that has not been touched by the ramifications caused by 2020's global pandemic. Each one of us has been affected in some way and because we are all part of the one soul family, we all feel one another. One person's awakening is felt by us all. And hence, in 2020 there has been a great acceleration of awakening amongst humanity.
This great awakening has taken place 'equally' for those who were previously unaware that they are spiritual beings experiencing a human life, as well as for those who have been awake to this realisation for months, years or even decades.
Indeed, a deepening awareness of our path and purpose has taken place for all. And so, with much confusion and disarray occurring globally (as old 3D structures and institutions slowly disintegrate and become exposed) each one of us is looking for HOW we can help. How can we help in a way that is benefiting humanity and nature, rather than creating further fear or degradation?
WHAT IS A SPIRITUAL SOLUTION?
In the first part of my blog post I outlined 'the issues' that we're moving through during the pandemic, providing timelines for when and how energy may shift. And now, I'm happy to bring through solutions. These are steps that you can take right now, with no special tools or knowledge required. All that you need is to apply a little effort on your part, in order to feel good and lift your spirits and energy for all.
A solution can be defined as the means by which an identified problem or issue can be solved.
In my experience, when we apply spiritual solutions to everyday problems, our seeming problems resolve very quickly. You'll be bringing light and insight from within (from soul and the infinite universe) to that which may make no intellectual or physical sense. The realm of spirit has all of the answers and can be accessed by connecting through your heart space.
CONNECT WITH SOUL NOW
So, before you read the solutions below, take a moment now to close your eyes, place your hands over your heart and feel the loving, warm presence that you are. You are soul. This is the real you.

' A SPECIAL MESSAGE TO THOSE WHO HAVE AWAKENED AND HAVE BEEN ON THEIR PATH FOR MANY YEARS
If you've been aware of your spirituality for many months or years, then we need you to be a calm, safe harbour and loving role model for all. There is so much discord being stirred on Earth at present and some of it is even happening within the spiritual community. My recent (November 19, 2020) LIVE Video BELOW beautifully explains why those who are awake have a responsibility to their own growth and that of all – to pause before acting and to be the self-disciplined and a respectful model of soul leadership during Earth's transition. '
THE SPIRITUAL SOLUTIONS
USE DISCERNMENT – This is the practice of pausing before you choose, pausing before you act. Take a moment to come into your heart and ask, 'What would soul do?' If you act without conscious thought you could get caught up in situations that are damaging to yourself or others. Use your wisdom (gained by personal experience) before engaging in online or in person conversations and acts that pull energy down and create fear, rather than love.

BE SELF-RESPONSIBLE – The greatest power comes from applying self-responsibility. Consider what is in your best interests before you act. Consider what is in the best interests of others before you act. Simple. Consider consequences of what you set in motion, before you set anything in motion. You will save much pain and backtracking if you make decisions that respect yourself and others.

BE SELF-DISCIPLINED – It really is simple to apply self-discipline. Again you bring everything back to 'you' before you act. Consider what is best for you. Close your eyes and ask soul, 'Is this good for me? Follow your own sage inner advice.

NO PROJECTING – Be aware of owning your own ideas, thoughts and energy. Projecting is when you throw your own insecurities onto others. For example, you say to someone that they should be 'more compassionate', when it's you who needs to be the compassionate one. Rather than recognising what you need to work on and being responsible for your own energy, you project it onto someone else. This dis-empowers you and the other person. Pause before choosing. Own your power and own what is yours to work through. You'll be so much better off when you do and you'll be working with authenticity.

FOCUS ON WHAT YOU LOVE – This is a huge spiritual solution for all of us. Focus more on what you love and less on what creates fear. Pour your energy into what you're for, rather than what you're against.

BE HONOURING – This solution is the act of being grateful. Each day, go within and ask to recognise all that you have to be grateful for. Fill your heart with love and high-vibration energy. Honouring supports every other solution that I've listed here.

BE AWARE OF YOUR PERSONALITY & SHADOW – Your personality (or what some call ego) is the energy of your intellect – the head. You need your personality to get you through your human life. It's not bad, it simply needs to take instructions from soul, from the heart. The solution is to connect your head with your heart every day – integrate personality into soul – so that your shadow (personalty's hidden aspects) is not on display. Shadows can bite. They hurt, they lash out and scare, creating fear. Bring your personality out of the shadows. Each day, close your eyes, ask your head to connect into the heart and then feel the love growing. Do this each day and soon you'll be feeling less 'disconnected' and more fully 'connected' with love and in your soul power.

USE EMPATHY – Put yourself in someone else's shoes. Imagine what life must be like for another. Feel compassion. Do this before you vilify or condemn another. Then act in your power, from a calm, centered base. Empathy is a soul super-power.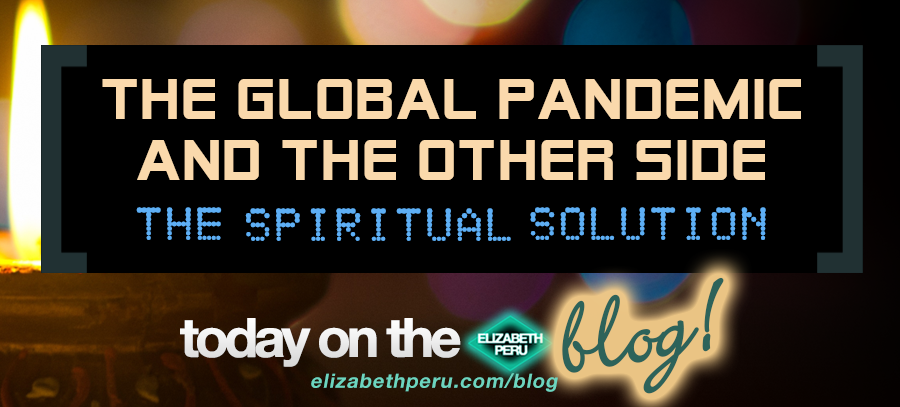 ---
STAY AWAY FROM ONLINE VITRIOL – This is a solution that you can implement immediately. Before engaging in online conversations designed to instill fear or attack, ask yourself, 'Will this make me feel good?' Will this harm myself or another?' There is so much needless fear being generated online. There are better ways to use your energy. Pour your energy into constructive ways that make you feel good. Take a few extra moments and put the effort in. Be self-responsible and considered.

GENERATE UNDERSTANDING & COMPASSION – As with the above solutions, when you are coming from your heart, from soul, compassion and understanding of your own path and that of others – naturally flows.

EARTH IS COSMIC – Consider that you're inhabiting a physical body that lives on a physical Earth body that is cosmic in nature. Earth is a planetary body moving though space and each of us is a citizen of the cosmos. Earth is cosmic. You are cosmic. Your responsibility is to all. Be in awe and honour of what you are a conscious part of.

BE RESPECTFUL & DIGNIFIED – Be respectful of your own will and that of others. We may not all agree with one another. That does not mean we need to tear shreds off one another. There are ways to approach any disagreement. Hold your energy strong at all times. Consider the impact of your energy. Approach situations in a calm and empowered way. This is holding dignity and respect.

WATCH YOURS WORDS (less can be more) – Consider that every word you think or speak IS creating your reality.

APPLY INTEGRITY & VALUES – Each of us has a personal set of values that secretly runs our life. Go into your heart now and ask soul, 'What are my values?' Write them down and then act in alignment with them – always. Then you will always be in your integrity.

EARN YOUR EXPERIENCES – Soul loves to learn and grow from creating experiences using all of your talents and skills earned through lifetimes. You are so capable of yourself. Try not to envy or wish that you were different. Rather, apply your skills and put the personal effort in to bring through your expression of life – your way. Then you will be an uplifting role model for us all.

CHOOSE WHO AND WHAT YOU ENGAGE WITH AND GIVE YOUR ENERGY TO – And finally, given all of the above spiritual solutions, make a conscious choice before immersing yourself in anyone or anything. Ask soul, 'Will this empower me or dis-empower me?'
IS THE ABOVE resonating with you DEEPLY? If so, I invite you to work with me each day. I'm here for you, to help keep you informed and on track – increasing your awareness. Let's thrive through this great global awakening and energy shift of 2020. My daily energy forecasts and life guidance can assist. Receive deeper information and spiritual connection (like you have in this blog post) by aligning with the current cosmic energy every day. I offer this to you in The Tip-Off Global Energy Forecast I've been writing The Tip-Off every week since 2003 – for your daily meditation and self-empowerment.
YOUR TIME IS NOW. BE AN EMPOWERED BEING NOW AND IN 2021
---
I thank you 'sincerely' for your love and support of all fellow humans during this time. I welcome your LOVING and high-vibration interactions below. What every spiritual teacher has ever said is now coming to pass and is having to be practiced by EVERYONE. More than ever, 'walking your spiritual talk' is self-evident.
Please SHARE this blog post link in full https://elizabethperu.com/blog/spiritualsolution with your friends, loved ones and communities of light. Let's spread these important messages.

Sending you my love and support, as you…experience your soul
Elizabeth ♡
SHARE THIS BLOG POST ONTO YOUR SOCIAL PAGES
CLICK THE LINKS BELOW